~外国特派員協会での会見を生中継&アーカイブス~



橋下 徹大阪市長 釈明会見 
外国特派員協会にて
5月27日(月)12:00~

12:00- Monday, May 27, 2013
Toru Hashimoto, Mayor of Osaka and Co-leader of The Japan Restoration Party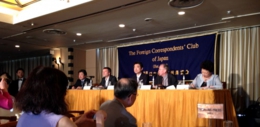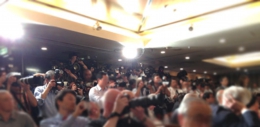 Since 2008, when he became Osaka governor, Toru Hashimoto has been described, variously, as the long-awaited savior of Japanese politics, as a smart, practical, reformer representing a new generation, a populist fighting the hated Tokyo bureaucrats, a fascist dictator, and as "Japan's answer to the American Tea Party movement."

In November 2011, Hashimoto and his local party, Osaka Ishin no Kai, took control of the Osaka mayor's office, the governor's office and the Osaka prefectural government assembly. Hashimoto then went national, tying up with former Tokyo Governor Shintaro Ishihara for last year's Lower House election. Their Japan Restoration Party won nearly seven million votes and 54 seats, making it the third largest party in that chamber.

In recent months, however, the party and Hashimoto have been largely eclipsed by Prime Minister Abe's economic program dubbed "Abenomics." All of that changed last week, however, when Hashimoto began speaking out on "comfort women," war-time prostitution and related issues, bringing a virtual wave of international criticism.

In response, Hashimoto made a declaration: He would come to the FCCJ to explain his views to a global audience. His appearance will almost certainly be one of the top news events of the year.

The outspoken Hashimoto loves a good debate, and is one of the few Japanese political leaders whose press conferences are open to all. He is reportedly something of an expert on French wines and old whiskies, and he's an avid user of social media, with a Twitter account that has over 1 million followers worldwide.